Singapore is undoubtedly a well-liked Asian travel location. Conversely, the nation's airport is renowned for being among the most stunning and expertly run in the world. One of the busiest airports in Asia, the airport has been a welcome place for many airlines due to its air traffic and closeness to other Asian and Pacific nations. Many transit travelers come to Singapore, a well-known airline hub, for a brief period of time before departing for another location. Do tourists in such circumstances require a Singapore visit visa? Here is a summary of the Singapore transit visa available at Singapore's international airports.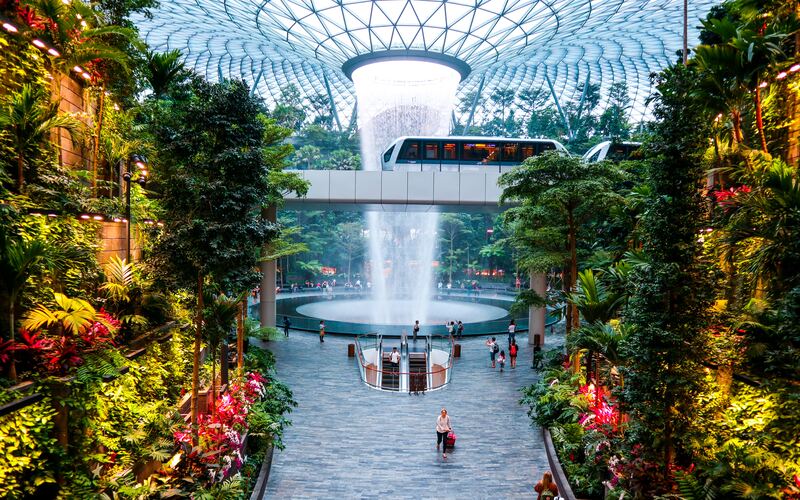 Singapore Transit Visa- A Primer 
A transit visa for Singapore permits the bearer to enter the country for a set period to board a flight to another location. Only some people need a transit visa for Singapore. No transit visa is necessary:
You can transit to your next aircraft without having to apply for a Singapore transit visa separately if you travel through Singapore & are from a nation where one is unnecessary.
You may stay in the Changi Airport transit area until the time of flight departure if you arrive at Singapore Changi Airport and are given onward boarding passes, especially for connecting flights out of the Changi Airport or obtained from any of the Transfer Lounges inside the transit area. If you remain within the Transit area (Terminal- 1, 2, 3, and 4) & do not travel through the Immigration area, you do not need to apply for a transit visa.
Types of Singapore Transit Visa 
Singapore Layover Visa- Travelers on layovers in Singapore can explore this city during their brief sojourn, thanks to a layover visa. To make the utmost of your stopover, learn this visa's criteria and application process.
Visa Free Transit Facility-The VFTF, designed to help foreign travelers, allows those who qualify to transit through the city without requiring a visa.
Visa Requirements 
You must be informed of the Singapore transit visa requirements to submit a successful application for a transit visa to Singapore. In addition to other topics like processing times and visa fees, this part also discusses necessary travel papers, including a current passport, proof of cash, and return airline tickets.
Documents Needed for a Transit Visa in Singapore
Gather the necessary paperwork before applying for a transit visa for Singapore:
Fully filled and signed 14A visa application form
A passport that is valid for a minimum of six months
A duplicate of your passport's bio page
A color passport-sized photo with a white backdrop that satisfies the standards
Paystub as evidence that you paid the visa cost
Proof that you have enough money for your stay
A copy of the ticket for the return flight
Please be aware that depending on your unique circumstances and the visa type you are applying for, extra papers may be needed.
How to Apply?
Indian citizens can apply for transit visas to Singapore using the same process as regular visas. There are two key ways for foreigners to apply for visas:
Joining Hands with Approved Visa Agents- Authorized visa representatives might facilitate the application procedure for a transit visa to Singapore. Recognize the processes and paperwork needed when applying through such agents. You may find the list of authorized agents on the Singapore Ministry of Foreign Affairs official website.
Applying via the ICA Website- Another choice is to use the ICA Website to apply for a transit visa to Singapore through a local contact. Learn about this method's information requirements and online application procedure.
Benefits in Abundance 
Freedom to Travel around Singapore- The flexibility to explore this city during layovers is one of the key advantages of getting a transit visa for Singapore. You may leave the airport's transit area and explore Singapore's lively culture, cuisine, and tourist sites.
Travel Process Simplified-Prior application for the Singapore transit visa reduces the possibility of any unforeseen problems or delays at the destination, resulting in a smoother travel experience. Having the correct visa also gives you peace of mind to focus on having fun on your vacation.
Visa Free Transit- The Visa Free Transit Facility is a practical and economical option for qualified travelers. By taking advantage of these chances, you may travel through Singapore without needing a visa, saving time and money.
Wide-ranging Network of Licensed Visa Agents-The broad network of accredited visa agencies that can help with the Singapore transit visa application procedure is advantageous for Indian travelers. These licensed representatives can help you through each stage, making the process more effective and manageable.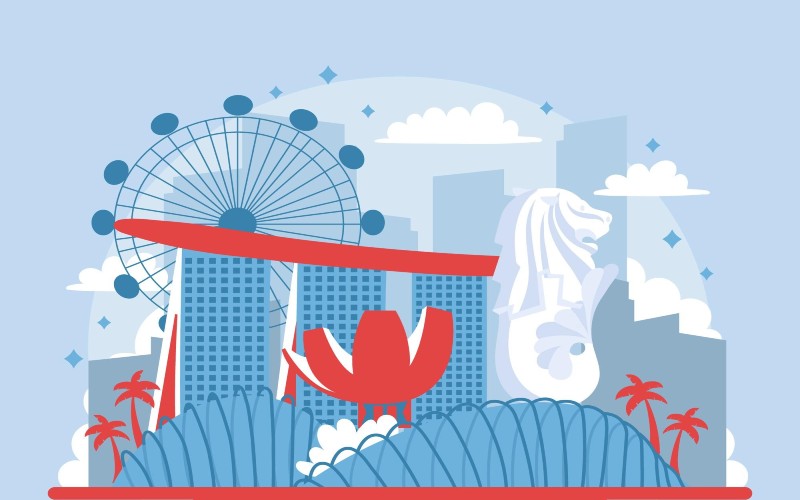 Which Citizens Need Singapore Transit Visa?
Citizens of the following countries need a Singapore Transit Visa if they are transiting through Singapore:
Afghanistan
Albania
Algeria
Andorra
Angola
Antigua and Barbuda
Argentina
Armenia
Australia
Austria
Azerbaijan
Bahamas
Bahrain
Bangladesh
Barbados
Belarus
Belgium
Belize
Benin
Bhutan
Bolivia
Bosnia and Herzegovina
Botswana
Brazil
Brunei
Bulgaria
Burkina Faso
Burundi
Cambodia
Cameroon
Canada
Cape Verde
Central African Republic
Chad
Chile
China
Colombia
Comoros
Congo, Democratic Republic of the
Congo, Republic of the
Costa Rica
Croatia
Cuba
Cyprus
Czech Republic
Denmark
Djibouti
Dominica
Dominican Republic
East Timor
Ecuador
Egypt
El Salvador
Equatorial Guinea
Eritrea
Estonia
Ethiopia
Fiji
Finland
France
Gabon
Gambia
Georgia
Germany
Ghana
Greece
Grenada
Guatemala
Guinea
Guinea-Bissau
Guyana
Haiti
Honduras
Hungary
Iceland
India
Indonesia
Iran
Iraq
Ireland
Israel
Italy
Jamaica
Japan
Jordan
Kazakhstan
Kenya
Kiribati
Kosovo
Kuwait
Kyrgyzstan
Laos
Latvia
Lebanon
Lesotho
Liberia
Libya
Liechtenstein
Lithuania
Luxembourg
Macedonia
Madagascar
Malawi
Malaysia
Maldives
Mali
Malta
Marshall Islands
Mauritania
Mauritius
Mexico
Micronesia, Federated States of
Moldova
Monaco
Mongolia
Montenegro
Morocco
Mozambique
Myanmar (Burma)
Namibia
Nauru
Nepal
Netherlands
New Zealand
Nicaragua
Niger
Nigeria
North Korea
Norway
Oman
Pakistan
Palau
Panama
Papua New Guinea
Paraguay
Peru
Philippines
Poland
Portugal
Qatar
Romania
Russia
Rwanda
Saint Kitts and Nevis
Saint Lucia
Saint Vincent and the Grenadines
Samoa
San Marino
Sao Tome and Principe
Saudi Arabia
Senegal
Serbia
Seychelles
Sierra Leone
Singapore
Slovakia
Slovenia
Solomon Islands
Somalia
South Africa
South Korea
South Sudan
Spain
Sri Lanka
Sudan
Suriname
Swaziland
Sweden
Switzerland
Syria
Tajikistan
Tanzania
Thailand
Timor-Leste
Togo
Tonga
Trinidad and Tobago
Tunisia
Turkey
Turkmenistan
Tuvalu
Uganda
Ukraine
United Arab Emirates
United Kingdom
United States
Uruguay
Uzbekistan
Vanuatu
Vatican City
Venezuela
Vietnam
Yemen
Zambia
Zimbabwe
Citizens of the following countries can transit through Singapore without a visa if they remain in the transit area of Changi International Airport for less than 24 hours:
Brunei
Cambodia
Laos
Malaysia
Myanmar (Burma)
Philippines
Singapore
Thailand
Vietnam
Citizens of all remaining countries must apply for a Singapore Transit Visa if they are transiting through Singapore. The application procedure can be completed online or at a Singapore embassy or consulate.
Singapore Transit Visa Cost 
A Singapore Transit Visa cost will be about S$30 (Singapore dollars). Irrespective of the outcome of your application or if you withdraw it after submission, this cost is not refundable. There may be an extra cost if you apply for the STV through any visa agency. Depending on the agency, this charge will have a different price.
Processing Time 
The Singapore transit visa processing time is typically 3 to 5 working days. However, this may vary depending on the circumstances of your application. For instance, the processing time may be longer if you are applying for a visa at a Singapore embassy or consulate. You can check your application's processing time by contacting the Singapore Immigration and Checkpoints Authority (ICA).
Here are a few tips for speeding up the processing of your Singapore transit visa application:
Ensure you have all the required documents
Complete the application form carefully and accurately
Pay the application fee
Apply for your visa in person at a Singapore embassy or consulate.
If you are applying for a Singapore transit visa, you should allow 5 working days to process your application. You can apply for an expedited processing service if you require your visa sooner.
Bottom Line 
The Visa Free Transit Facility and Singapore transit permits must be understood to provide a smooth international travel experience. With the correct information on visa classes, specifications, and application procedures, you may confidently transit through Singapore and maximize your trip. Start making travel arrangements to Singapore now, and do not allow visa issues to get in the way!
Pankaj Rajpoot has extensive experience in the travel industry and has specialised in visa consulting. Along with being a keen writer, he has a wide range of interests and enjoys reading and travelling. He seeks inspiration by exploring new places, interacting with the local cultures, and nurturing his creative pursuits while doing so.