Dubai is an international hub for expatriates, tourists, and even transiting passengers. On the world map,  Dubai is strategically located at the intersection of several air routes, which makes it a favouring layover spot for connecting flights. Additionally, the infrastructure and efficiency of Dubai International Airport facilitate timely and successful flight connections. As a result, you will likely stop at this amazing international airport on your way to Western countries to catch your connecting flight. If so, do you need to apply for a transit visa? Find out all about Dubai transit visas as you read on.
What is a Transit Visa?
A transit visa is a travel document that allows you to enter a country temporarily for a specified time. It is used for switching flights mid-way during your travel journey. However, this visa is only valid for specific hours and can only be used to make a stop and stay until the departure time of your next flight. Transit visas are short-term visas designed only for those traversing through the destination. This is a non-immigrant type of single-entry visa and is non-extendable.
About Dubai Transit Visa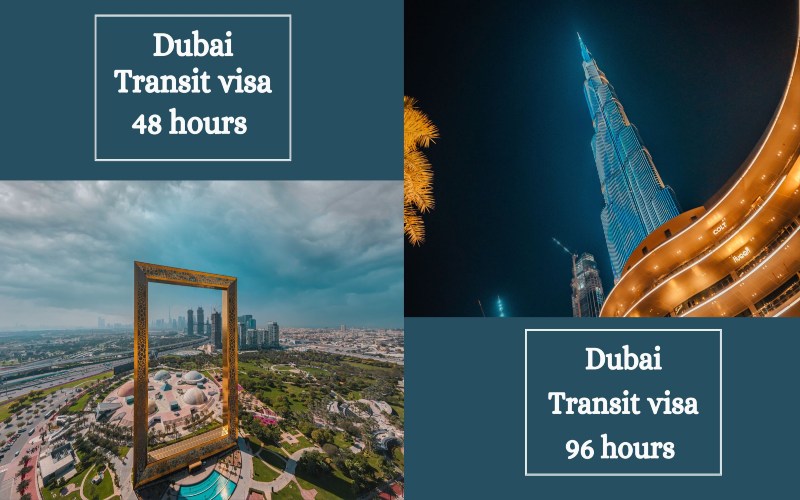 The Dubai International Airport is one of the most popular airports where international passengers take a break from their long-haul journey and wait for their connecting flights. On a Dubai Transit Visa, you can leave the airport and step into the city to explore for a short time before catching your connecting flight. The most significant benefit of having a transit visa in Dubai is that you can explore the futuristic city instead of just sitting around waiting for your next flight. However, you are allowed to stay at most of the allotted time on a transit visa, and you must leave Dubai in time for your connecting flight. Two visa types are available to you in Dubai as a transit traveller.
48 hours transit visa
96-hour transit visa
Dubai transit visa is valid for 14 days from the date it is issued, but the visa holder can only spend 48 or 96 hours as specified in the respective visa in Dubai.
Dubai transit visa can only be processed via UAE airlines such as Etihad Airways or Emirates Airways. These visas are not 'on-arrival' visas; hence if you are transiting in Dubai, you must apply for and acquire the Dubai transit visa before arriving at the airport. However, those citizens who benefit from the privilege of visa on arrival or visa exemption can forego getting a Dubai transit visa 96 hours  or 48 hours altogether. You can also get in touch with a tour operator or travel agency with whom you have already made arrangements for your flight tickets, and they can continue with obtaining a transit visa from the appropriate airline on your behalf. Dubai visa transit fee for 48 hours costs nothing. You can apply for it free of cost. 96 hours Dubai transit visa price is  AED 50 per visa. Each passenger at UAE airports must pay a departure fee of AED 30, irrespective of visa type. This applies for Dubai transit visa 48 hours passengers as well.
Dubai Transit Visa Requirements And Procedure
Now, let's learn how to apply for a Dubai transit visa. Firstly, you will need to keep the following documents ready.
Your passport should be valid for 6 months or more after you land in Dubai.
A recent clear, color photograph against white background was clicked per Dubai visa guidelines' dimensions.
Confirmed tickets for the connecting flight that will take you to your onward destination while you transit through Dubai's airport. The next stop should not be where you are travelling from; rather, it should be a third different location.
Once you have all these documents ready, you need to contact UAE Airlines, through which you have to reserve your tickets and request them to process your transit visa as well. Make it easier by getting a reputed tour operator to do the same. You will receive the visa within 3 to 5 working days. However, it is always best to apply earlier to avoid last-minute hassles.
When you arrive at Dubai International Airport, show your passport, transit visa, and details about your next connecting flight at the immigration counter, and you are sorted!
Depending on how long your visa is valid, you have 48 or 96 hours to explore Dubai.
So, now that you know about the Dubai transit visa, take full advantage of it and ensure you get one beforehand if your travel journey demands a long stop-over at Dubai International Airport. Put your time to good use with a Dubai transit visa and enjoy a short time marvelling at this fascinating emirate for a couple of hours before you resume back on your original journey. It is definitely worthwhile!
Pankaj Rajpoot has extensive experience in the travel industry and has specialised in visa consulting. Along with being a keen writer, he has a wide range of interests and enjoys reading and travelling. He seeks inspiration by exploring new places, interacting with the local cultures, and nurturing his creative pursuits while doing so.