Dubai, undeniably, is one of the most extravagant cities in the world. As it emerged as a modern city, it broke the shackles of being tagged as a desert destination and turned into one of the most futuristic cosmopolitans in the world. This landmark turn of events about two decades ago caught the attention of all globetrotters. Since then, Dubai has added a new attraction to its cityscape every other year, making tourists more eager to visit this emirate yet again for new mind-blowing experiences. More than one visit to Dubai is required to experience everything it offers. So, for Dubai travellers, revisiting this emirate meant renewing their Dubai visa for a trip. For all repeat travellers, take advantage of a 5-year tourist visa UAE. Check out this short guide to know more.
What is a 5-year Multiple Entry Dubai Tourist Visa?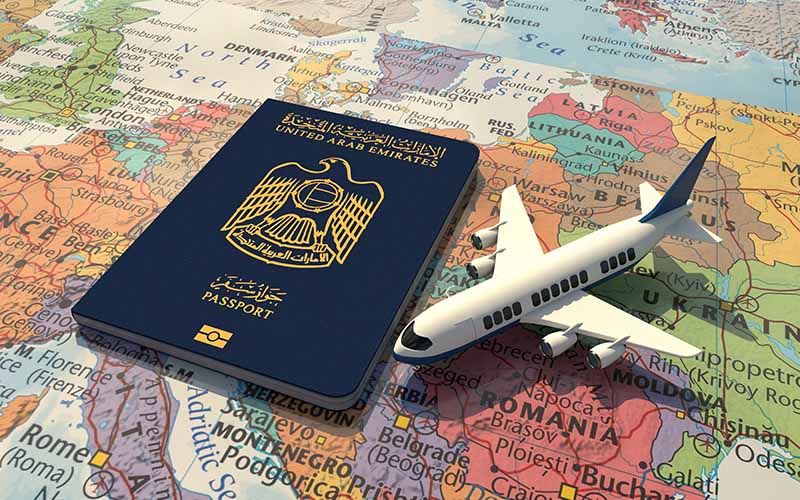 In simple terms, it is a visa that allows any eligible foreigner to enter the UAE multiple times for five years for tourism purposes on self-sponsorship. Self-sponsorship means that the applicant does not need a UAE national to act as a host or sponsor to apply for a UAE visa on their behalf. In other words, you can apply for this UAE visa from anywhere in the world, unlike the standard UAE visa, which must be applied for in the UAE. However, Dubai 5-year multiple-entry tourist visa holders can only stay in the country for up to 90 days. It can be further extended for additional 90 days. Hence, an individual with a Dubai 5-year tourist visa is granted 180 days as the total period of stay during one Dubai trip. After 180 days are complete, the person must leave the UAE. They must exit and re-enter the country if they wish to continue their visit. However, an individual with this visa must enter the UAE within 60 days of receiving the visa. Otherwise, the entry permit will be cancelled, and the visa must be renewed and reapplied for a new multiple-entry visa.
Eligibility For UAE 5-Year Tourist Visa
The following criteria must be met for someone to be eligible for a five year Multiple Dubai visa:
The applicant should not be qualified for a UAE visa under the visa-exempt or visa-on-arrival benefits.
Bank balance statements for the previous six months should show sufficient funds of USD 4000 or its equivalent in another currency.
Sufficient proof must be provided to show that the purpose of travel is for a social visit or tourism purpose. This can be done by providing the necessary documents on where the applicant will be staying during the UAE trip.
To demonstrate the same eligibility, the following documents are required as UAE 5-year tourist visa requirements:
A recently clicked colour photograph against a white background. The photograph should comply with the precise dimensions and guidelines of the UAE visa photo requirements.
A valid, current passport and its photocopies. This national travel document should still be valid for another 6 months once you enter Dubai. Handwritten or damaged passports are not entertained and will result in visa rejection.
Bank statements detailing the financial status of the last six months.
Health and medical insurance are valid for the entire duration of the applicant's stay in the UAE.
Confirmed return flight tickets to show the date of exiting the country are mandatory.
Other documents include accommodation details in UAE, hotel bookings, and travel itinerary.
In the case of minors travelling with adults, additional documents such as birth certificates will be needed.
How to Apply
The application for this Dubai visa is quite simple. You can either handle the entire visa application process yourself or assign it to a visa expert who will do it on your behalf. With the latter choice, you have one less thing to worry about in your Dubai travel planning.
You can apply for this visa on the official websites of the ICA or the General Directorate of Residency and Foreigners Affairs (GDRFA).
Go to the website, register, create an account, and log in.
Once the registration is done, start filling up the application form by providing accurate, complete, and clear answers to all questions.
Next, scan and submit all the necessary paperwork for your visa case, including all mandatory documents.
Pay the visa fees. The cost of a visa varies from case to case. Normally, as per the GDRFA website, a 90-day visitor visa costs AED 700 plus an additional 5% VAT fee. Applicants may also be required to pay additional fees, including those for financial guarantees, health insurance, security deposits, and other additional services as part of their visa application. If the visa fee categories are a little overwhelming for you, it is best to take the assistance of a Dubai visa expert who can guide you through the process. Double-checking your application is an important step to be noticed to make sure everything runs smoothly and smoothly in information before continuing with the visa fee payment. The application cannot be amended once submitted, and the visa fees have been paid. If there are any issues with the information and the visa is rejected, the visa fees will not be reimbursed.
After you submit your application, you will receive a text message or an email confirmation. Once processed, you will receive the status of your visa digitally. You can also access the ICA or GDRFA websites to check your visa status. The visa processing starts after the application has been confirmed as submitted successfully, and the visa takes at least 48 hours to process.
That's all! This information lets you confidently proceed with your Dubai 5-year Multiple Entry visa. Consider this visa an optimal choice if you are a frequent visitor to the UAE. After receiving this visa, you won't need to worry about obtaining a Dubai visa each time you want to visit Dubai for five years!
Pankaj Rajpoot has extensive experience in the travel industry and has specialised in visa consulting. Along with being a keen writer, he has a wide range of interests and enjoys reading and travelling. He seeks inspiration by exploring new places, interacting with the local cultures, and nurturing his creative pursuits while doing so.