At times, particularly in reference to first-time travelers asking for no matter which types of UK visa, the information that an embassy requires might need to be clarified. An invitation letter is one document that is frequently required.
An official letter from your host, a national of your visiting nation, is an invitation. An invitation letter is sufficient documentation that you will stay with relatives or friends during your visit.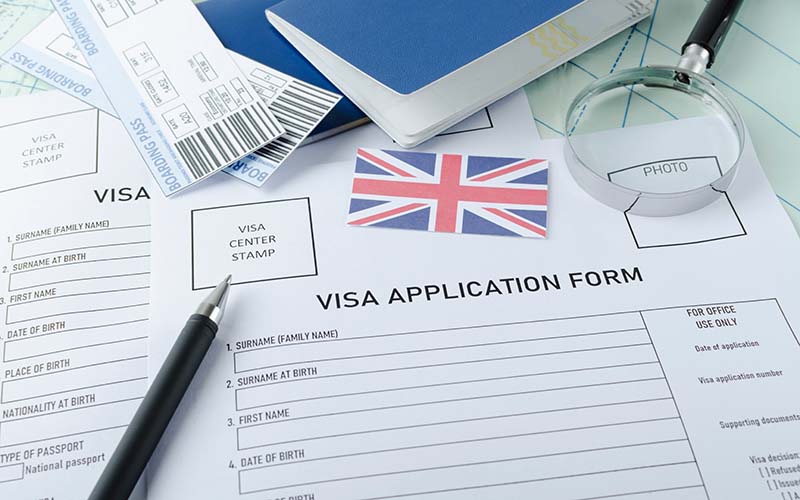 Understanding a Letter of Invitation
An official letter of invitation serves as proof to immigration officials that a supporter and sponsor for the visa application exist in the UK. Writing an invitation letter for a UK visa is mainly done to demonstrate to immigration officers that there indeed is a good cause for a visitor to the UK. As a result, it contains information on the host & the visitor, their purpose for travelling, and their intended length of stay. So, visiting relatives or friends might be included. It also clarifies how long they will be staying. What are their plans for their time in the UK, then? Who will host them and cater to their needs financially while they are here? Application for a UK visa does not require a letter of invitation. However, it could be advantageous when applying for a visa. It could raise the likelihood that an application will be accepted. The authenticity and correctness of all papers must be noted for immigration authorities to consider the visa application.
Need for UK Invitation Letter
The Home Office must confirm that a person will be legitimately visiting the UK. The letter of invitation acts as (further/additional) proof of the reason for one's visit and what they will be doing. At the same time, you are there, and any other pertinent details, such as if a family member or friend will be hosting you while you are there and/or giving financial assistance for your trip. Ultimately, you want to make it very obvious to an Entry Clearance Officer that when you enter the UK, you will not be breaking the terms of your visit visa.
Letter of Invitation Requirements
Requirements for the Invitation Letter for the UK are as follows,
Be a citizen of the UK, lawful permanent resident, or legal resident
Should be a partner/spouse, relative, or friend of the visitor
Should have an accommodation that is registered like a flat or a house that one owns or rents
Should have adequate space for accommodating the visitor completing their stay duration in its entirety
All information provided in the letter should be accurate and truthful.
A Gist of Supporting Documents
The invitation letter must be accompanied by copies of the supporting documentation mentioned in the letter for the ECO to accept it.
For instance, they may be documentation demonstrating your citizenship in the UK or your ability to support the guest during their whole stay financially.
You might want to attach the following supporting papers to your invitation letter as examples:
A scan of the UK passport or another document verifying your residency in the country, such as a biometric resident permit
Evidence of your home's rental or ownership, such as the tenancy agreement
Evidence of your financial resources, such as bank statements
Copies of any already booked travel, lodging, or activity plans.
Any other legal documentation which will support the visitor's visa application.
There are no particular files that must be included along with the letter. Nevertheless, the support for a visa application will be stronger the more supporting papers you submit.
Secrets to Penning Down a UK Invitation Visa
However, you might need to create the invitation letter for a UK visa if you invite someone to travel to the UK for leisure or business. Invitation letters thus demonstrate Travel objectives, the Relationship between guest and host, and Support from the host. It is critical to include all facts while drafting such a letter. However, it also states what you want to do while they are here and how long they plan to remain in the UK. Additionally, the invitation letter offers your and your guest's contact information, including all necessary information about their trip plans and whatever debts they may have while visiting. The success of your request may depend entirely on how well you write your invitation letter. Each letter should be carefully thought out and considered.
Let's unravel the secrets to penning down a UK visa invitation letter,
The invitation letter must be written in an official tone and follow a formal structure.
It should also include good language and spelling.
Additionally, it should be presented with a clean style and organization.
Try to use numbered lists or bullet points whenever possible to assist break up the material and make the letter simple for the Home Office caseworker to read and cross-reference.
Clearly and concisely include all pertinent information: All pertinent details regarding the anticipated visit, such as its goal, expected duration, and location, should be included in the letter. A clear and concise presentation of this information is required.
The invitation letter must comprise the following vital information,
The primary reason of the visit
Duration of the stay
The applicant's general background
Overview of the travel plans within the UK
Relationship between the applicant and the person sending the invitation letter
Statement of the financial backup
Full address of the accommodation
Who Must Write the Invitation Letter?
In case of residing with friends/family- The letter must be addressed to an Entry Clearance Officer and prepared by the person who will pay for your accommodations or financially support you. The applicant must be a British national or a legitimate resident of the UK (often referred to as a resident sponsor). Although a relative of a visa applicant need not be the person submitting the letter of invitation, the connection must be real and adequately established as such.
In case of permitted paid engagements- The appropriate UK-based company or client must prepare the letter you will be working for or with.
In case of business needs (training, conferences, meetings)- The organization(s) sending you and/or asking you to attend must write the letter.
In case of an exhibition or event- The organizer of each event is required to provide a letter of invitation.
Sample and Format- UK Visa Invitation Letter
Here is your sample invitation letter for UK Visa,
Date
[Insert nation] Immigration Division
[The Immigration Department's Address]
Re: [Applicant's name] Invitation Letter – [Insert number] Passport No.
To Whom It May Concern
I am [Inviting Person's Name], and I am submitting this letter in support of
[Name of the applicant] I am a citizen or permanent resident of [Country name] with
[Insert number] is the residence ID.
[Insert reason for the travel] is the cause of the trip. In the course of the visit, [Applicant's name]
Stay from [Admission Date] to [Date of departure] at [Inviting person's residence]. On the specified dates, [Applicant's name] shall [give a brief summary of the actions the candidates will accomplish while there.
We value your help in approving the required Visa.
Email me for further information.
Sincerely,
Signature of the Host______________________
The host, [name]
Address of the host:
[Host's] Telephone:
[Host's email]
Once you receive it, you must upload the invitation letter to your account to include it with your application.
Bottom Line
As a result, it is simpler than people realize to write the invitation letter for a UK visa. This article covered every detail concerning invitation letters for UK visas. Consequently, this post will assist in making your vacation planning less complicated and unpleasant. After all, there is no justification for why obtaining a visa shall be challenging. Writing the UK visa invitation letter is simple if you stick to the correct format and include all the necessary details. Making sure that your letter consists of a compelling invitation and justification for the sponsored individual to visit the UK is crucial. A letter of invitation that is well drafted might make it much simpler to obtain a UK visa. As a result, with a bit of planning, you will be travelling to the UK in no time!
Pankaj Rajpoot has extensive experience in the travel industry and has specialised in visa consulting. Along with being a keen writer, he has a wide range of interests and enjoys reading and travelling. He seeks inspiration by exploring new places, interacting with the local cultures, and nurturing his creative pursuits while doing so.